Fitting Easy
Accessibility, UX Design, UX Research
Fitting Easy is a mobile application for android devices whose main functionality is to help reserve accessibility fitting room for people on wheel chair. Additional features in the application include pre-ordering the clothes before getting to the store, checking the fit of the cloth by scanning the tag on the cloth through the smartphone application.
Methods
Survey, Semi-structured interviews,
Empathy study, Usability testing,
Task based analysis and Cognitive walkthrough
Responsibilities (UX Research)
Qualitative research & data analysis,
Prototyping
Usability Testing
Users
Our key users are adults across a wide range of ages who are not able to stand or walk, and who use wheelchairs in their daily lives. They are strong-willed, independent and go about doing their daily tasks, activities, and responsibilities.
Despite the Americans with Disabilities Act (ADA), and accessibility services available at clothing stores, there are still many issues wheelchair users face when purchasing clothing in stores. Depending upon the kind of disability (paraplegic/quadriplegic), their issues can vary from being unable to try on the clothes in a regular fitting room to needing assistance to get dressed. They love to wear good looking clothes and may have preferred brands to buy clothes from. Though they could purchase clothes online, they like to visit physical stores to find clothing they enjoy, and often try it on before making a purchasing decision.
Understanding the Problem
Research Questions
What issues do the users face?

What do they do to encounter this issue?

What is their motivation to purchase clothes at physical outlets?
Research Goal
To understand the issues that occur while shopping for clothing in physical stores, how users respond and why.
Recruitment
Recruitment occurred in Atlanta. I distributed our screener survey online through forums, Facebook groups, Craigslist, and Reddit. I also recruited in-person with the help of Office of Disability Service and AMAC Research Centre, both at Georgia Tech.
Data Collection Methods
(Semi-Structured Interviews, Empathy Study, & Survey)
To understand about people with different disabilities, places they visited often, their shopping experiences, and the problems they encounter while shopping clothes at a physical stores, I created a 19 question survey. This survey was answered by 27 people. Further, to learn about the existing solutions, my team did a literature review.
I conducted semi-structured interviews with knowledgeable sources and experts within the field including 6 wheelchair users, an occupational therapist, and a research scientist who specialize in accessibility.
Because we were not able to observe our target users navigate through a physical store and question them during their shopping I, along with one team member, conducted an empathy study. With the empathy study, we did complete store visits and documented our observations with attention and focus on accessibility at two clothing stores in Atlanta. The findings of this empathy study resulted in a User journey map (see next section).
Data collected from survey, interviews and empathy study was a mix of qualitative and quantitative data. Statistical analysis was applied to quant data while qualitative data obtained was coded in iterations & synthesized till it converged into clusters of problem areas.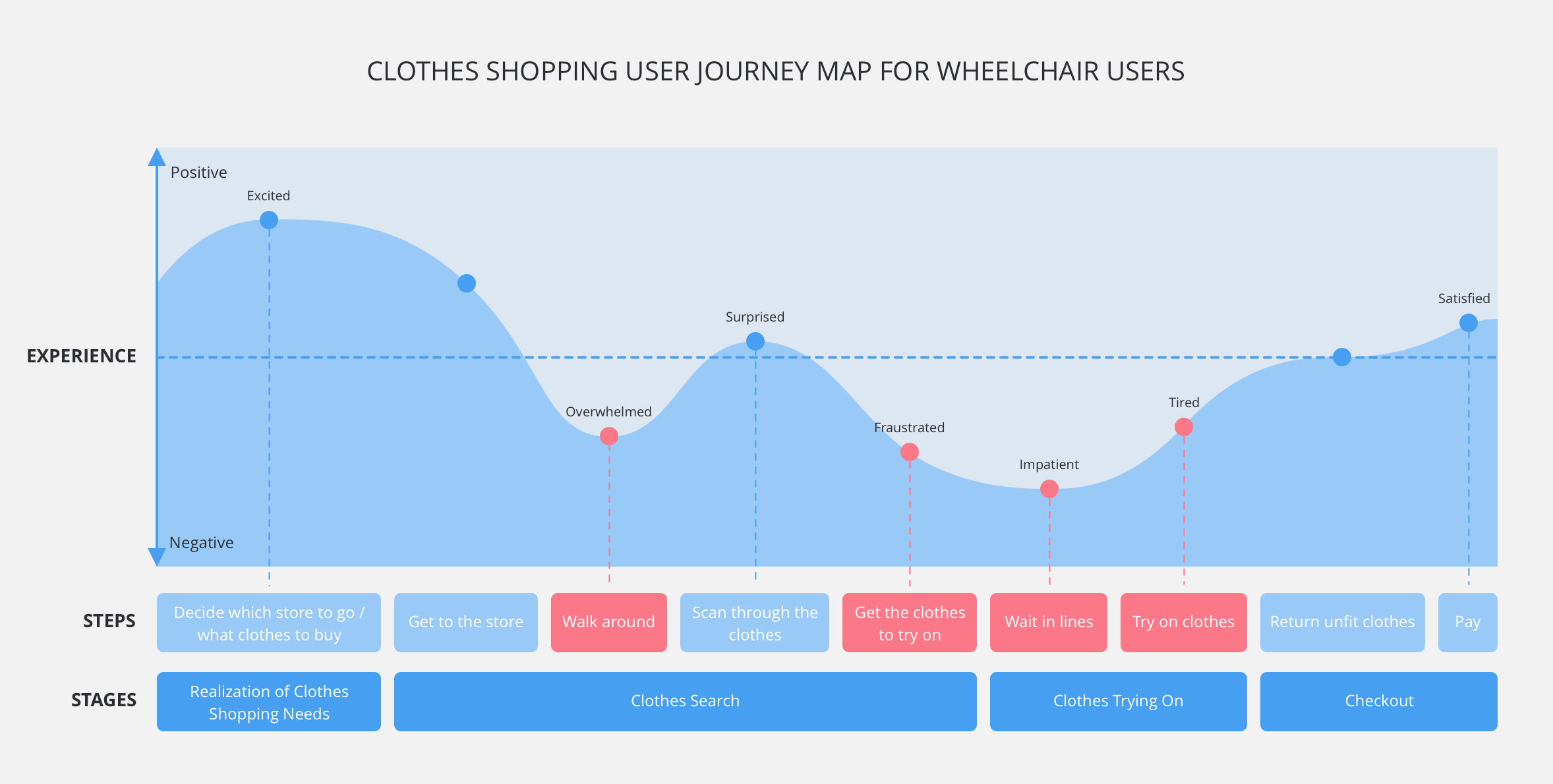 Based on the empathy study that was conducted, I synthesized the findings into a user journey map, which helped my team understand during which phases of purchasing our users faced inconvenience.
1. Often times when leaving their homes, wheelchair users feel that most facilities are not accessible or designed with them in mind, thus causing inconvenience to them.
2. The most common concerns heard from the users were based around reaching a particular object or navigating within a store.
3. Retail stores and shoppers are not generally concerned or considerate to the needs of customers with disabilities.
4. They don't want to be treated differently because of their disability. They want to be independent.
Identifying the Problem Areas
(Fitting Room, Reaching Items & Navigating within the store)
From our survey and interviews, we found people using wheelchairs facing several inconveniences while shopping for clothing in physical stores. These problem areas can be divided into three parts:

Navigating within the store
Narrow Aisles, narrow check-out lanes and difficulty in opening the doors are some main problems here.
Less Space for wheel chair to fit inside the dressing room, stores not having accessibility fitting rooms and longer wait-time to get to the accessibility fitting rooms as it is being used by able bodied people are some of the main problems identified with respect to dressing rooms.
High to reach cloth racks & displays and tall to reach checkout tables are some main issues with respect to reachability in the store.
2. Brainstorming and Sketching
We held 2 brainstorming sessions. In the first one, we came up with around 30 ideas. The next step was coding and categorizing these ideas based on the idea type, and the problem space it addressed.
In the second session, we employed selection matrices to narrow down our ideas based on cost, creativity, feasibility, and number of problem spaces tackled. Towards the end of the session, we finalized 4 different ideas, for which we came up a description to help us create scenarios, storyboards and sketches.
The store sets up body scanner which measures them and sends it to customer's phone. When the customer finds some favored clothes, they can just use the phone to scan the price tag, and the phone will show the information about how this clothes fits. Also, the customer can check the virtual image of these clothes shown on a model.
Customers can reserve a fitting room before they go to the store. They pre-order clothes online, or shop in stores depending on their preference. These clothes are sent to the reserved fitting room before the customer arrives. If the aisles are too narrow to get through, they can just pre-order online and go straight to the fitting room.
Customers enter their measurements into a mobile app, which they can look up at any point in time or edit it. As they go around the store looking for clothes and picking the clothes they are interested in, they can use the mobile app to scan the cloth and the app will indicate using an infographic, how well the cloth will fit them.
Customers can browse clothing options via a large in-store interactive display screen. Clothes are displayed on the screen with relevant specifications such as sizing, price, and color options. Customers then have the option to have the clothing pulled for them for an inspection, or checkout, or send it directly to a fitting room to try-on.
3. Deciding the Solution
Survey
To finalize the solution, we sent a survey to accessibility experts and participants who we earlier interviewed or surveyed. In this survey, we described each of our ideas and included a storyboard to illustrate the ideas. This was followed by 2 sessions to analyze our responses.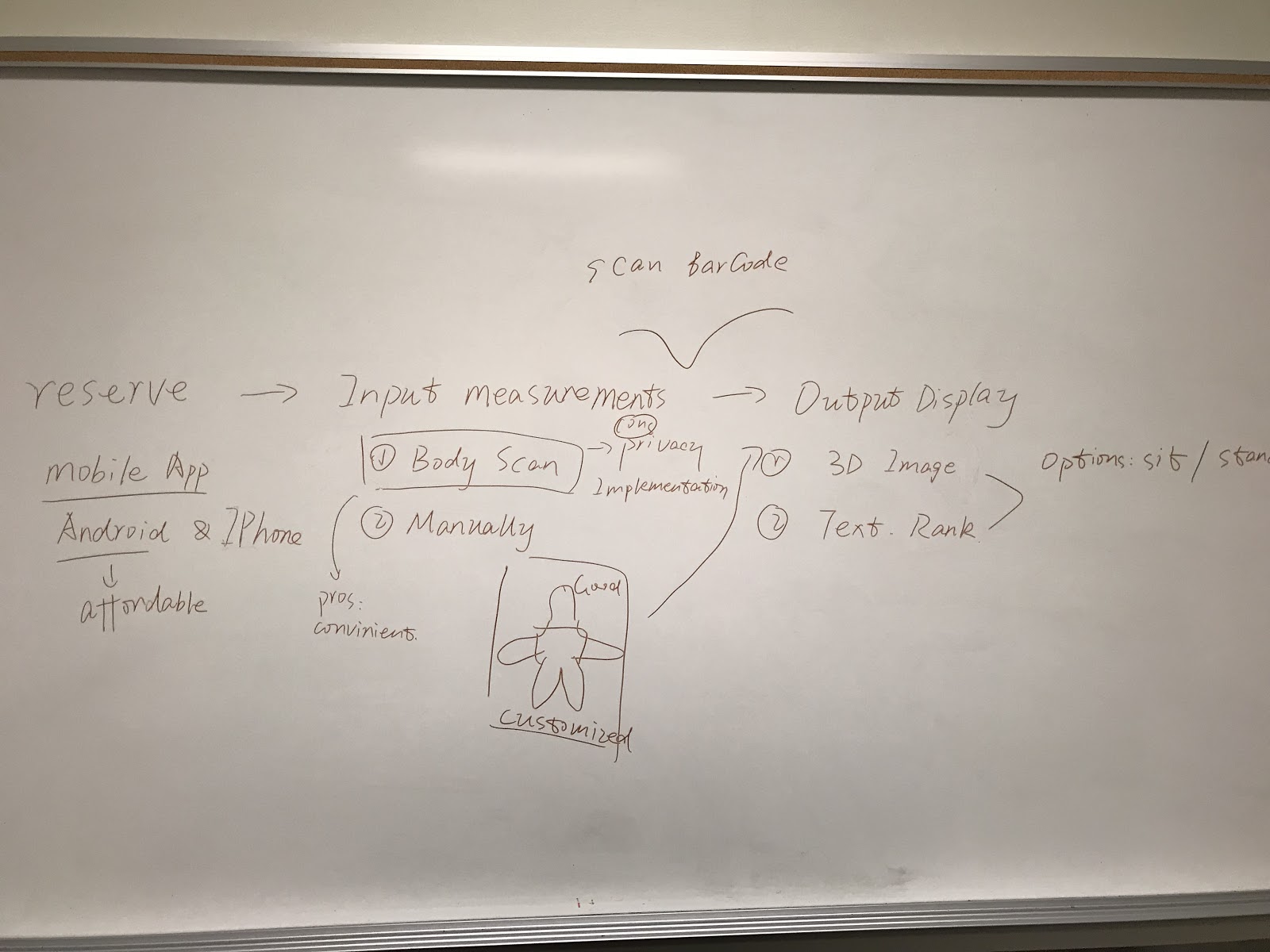 In the first session we analyzed the data we received from the survey, and decided on the type of interface we should focus on. In the second one, we identified the potential benefits of our ideas, their flaws, feasibility, and the concerns that our respondents perceived. We chose the most preferred idea and combined it with some functionalities from other ideas, to make it more comprehensive in addressing the problem. We then identified a set of tasks that our users would do on the system, and important events for which we visualized the layout of the dressing room, developed a task flow and discussed logistics for the events.
Some of the events that we envisioned for the system are:
Reserving the fitting room

Entering the fitting room

Exiting the fitting room

Pre-ordering of clothes through app / ordering the clothes
4. Interactive Prototype
Final Storyboard
Interface Screens
Try the interactive prototype below.
5. Validation
Usability Evaluation
(Usability Benchmarking, System Usability Scale, and Cognitive Walkthrough)
Our higher-level goal was to test the following to derive the usability of our prototype - Ease of Use, Learnability, Satisfaction & Usefulness. This was done using measurement of both qualitative and quantitative metrics. We completed a total of 4 usability testing sessions. Typical tasks of the application were presented to the participants, and follow up questions were asked. An example task was given to the participants, to get accustomed to the format of the session, and once the participant was comfortable, other tasks were given.
As the participant performed their task, they were asked to think aloud, and once they completed a particular task, follow-up questions were asked. When the participants completed all of the tasks, any further questions were asked and the participants were asked to rate their opinion of the prototype through the questionnaire including SUS.
Cognitive Walkthrough
We conducted 2 cognitive walkthrough sessions with usability experts. The experts were given the same tasks that were designed for the users.The usability experts were in agreement that entering measurements and reserving a fitting room, were easily navigated and understood by users. The task of adding clothing to the fitting room, experts felt was less clear. The button to scan barcodes is unfamiliar to users and therefore difficult and unintuitive. Further, the process of scanning clothing was difficult to understand. Once clothing was scanned for fit, one expert felt that the explanation of the fit would not be understood by users. The terms were not descriptive enough to fully explain to users the true fit of the clothing. For these reasons, both experts gave low scores for learnability of the system.
Criticism
Our app needs an instructional portion during onboarding to help novice users get familiar with our app.
In the body measurement portion, participants have concerns that some of the measurements are difficult to take by themselves, and they may still not know how to do it even after looking at the pictures provided
For scanning items, participants missed the function of our prototype that they can choose items online before visiting the store.
In the fitting room, users often have the need to change items and call for assistance, but our app is lacking these features.
Features that are good
Although there is still much room for improvement, we also found participants really enjoyed some features within the design. For example, the ability to view clothing fit on a virtual model can be really helpful if the result is accurate.
Also, participants felt the ability to extend fitting room reservation time was considerate for them since they usually take more time to try on due to the inconvenience of wheelchairs.
The barcode scanning gives users the ability to explore in store besides online shopping. It's also convenient because they don't need to carry clothes around.
Final Design Showcase
Created a poster to showcase our designs at a Georgia Institute of Technology event.
The majority of our participants were from Atlanta, which is not necessarily representative of general user group.
We did not get access to the stores at Atlanta to implement the service design envisioned in a physical store and understand the views of store authorities, if such a service would be feasible.